The birds are chirping. The trees are sprouting new growth. And the weather couldn't be more perfect. Which, makes it the perfect time for a smile tune-up at Current Orthodontics. So, what do we mean by a smile tune-up? Well, if you've ever had braces and your teeth have shifted, there's a faster way to get your teeth realigned. And for those who have never had braces, but have some minor issues to fix, Dr. Petersen might tell you invisible aligners may be just the thing, too.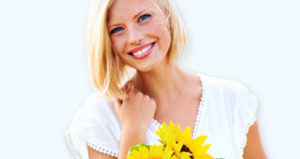 Invisible aligners, like Invisalign®, can get you the results you're after much faster than traditional braces, often in less than a year. Plus, (and this is the best part) it won't cost as much as a full set of braces either. That fact alone is something patients at Current Orthodontics love to hear.
Here are a few things invisible aligners can fix:
1) Crowded Teeth
2) Overbites
3) Underbites
4) Crossbites
5) Gap Teeth
6) Open Bite
7) Generally Straighter Teeth
Here's how it works:
1) First, we'll scan your teeth with a 3D scanner. This way, we can see exactly what your teeth look like now, and show you how your teeth will look before a single aligner is made.
2) Then, Dr. Petersen will fine tune every shift so when your aligners come in all you need to do is wear them.
3) Once our plan for your smile is in place, we custom make your aligners using a state-of-the-art printing process with over 20 years of research and technology behind it.
4) Your care won't end at receiving your aligners. Current Orthodontics will be with you every step of the way, making sure your teeth are moving the right way.
Interested in giving your smile a tune-up? There's no better time to do it than now. For more information about how Dr. Petersen can help you get a smile you're proud to show off, visit us at https://www.currentorthodontics.com/.